Pet Dentistry & Dental Surgery in Clemmons
At Animal Hospital of Clemmons, we provide quality pet dentistry and dental surgery for cats and dogs.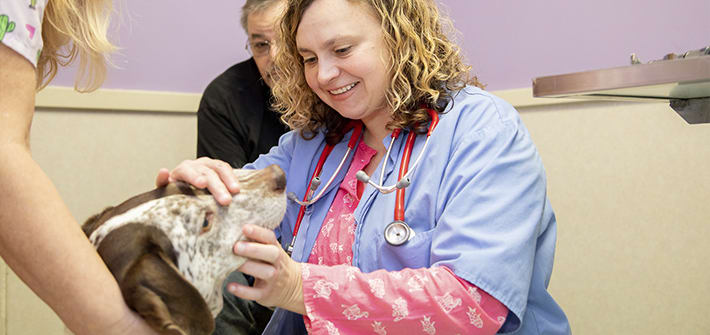 Dental Care for Cats & Dogs
Routine dental care is a very important aspect of the oral health and overall health of your pet. Just like humans, cats and dogs need to have their teeth maintained regularly to keep them strong and healthy.
We offer complete dental care, including cleaning and polishing teeth, dental surgeries, client education on at-home dental care to dental x-rays.
"We have been going to this practice since it opened many years ago. Dr. Martin has done neutering and dental cleanings for us. She is an excellent surgeon. Everyone at Animal Hospital of Clemmons has become like family to us. We are so grateful to have them so close by."
Annual Cleanings & Exams
Your pet should have dental appointment at least once a year, and more often if they are prone to dental problems.
Symptoms of Dental Health Problems
The following symptoms may be a sign of a dental problem in your pet:
Bad breath
Broken or loose teeth
Retained baby teeth or extra teeth
Tartar buildup
Discolored teeth
Abnormal chewing, drooling, or dropping food from the mouth
Reduced appetite or refusal to eat
Pain or swelling in or around the mouth
Bleeding from the mouth
Contact Us to Book a Dental Checkup
Assessment & Examination
First, a thorough preanesthetic physical exam will be performed on your pet.
We will evaluate your pet's blood and urine to ensure your pet can safely undergo anesthesia. Additional diagnostics such as an ECG or chest radiographs will also be conducted, if needed.
Once your pet is under anesthesia, we will perform a full oral examination (tooth by tooth) and charting.
Dental Hygiene & Treatment
Next, we will clean and polish the crowns of the teeth and under the gum line.
Each tooth is probed and radiographed. A fluoride treatment is then applied to each tooth.
Finally, a dental sealant is applied to retard the attachment of plaque. If advanced periodontal disease is found, a treatment plan will be developed and discussed with you at the end of the day.
At-Home Prevention & Regular Checkups
A follow-up examination will be scheduled two weeks after the assessment and treatment appointment.
At this visit, we will discuss implementing teeth brushing at home as well as other products available that can help improve your pet's oral health.
Dental Surgery
Our dental surgery services include tooth extractions, treatment for periodontal disease, and jaw fracture repair.
We will make your pet's dental surgery procedure as comfortable and stress free as possible for both you and your pet. We will talk you through each step of the process, including preparation and what will happen during the procedure.
We will monitor your pet during recovery, and provide any necessary post-operative care until they are ready to go home. We will send you home with thorough post-operative instructions on how to care for your pet as they heal.
Anesthesia & Your Pet's Oral Care
Anesthesia allows your veterinarian to perform dental procedures with minimal stress and pain for the patient. Rest assured that before going under anesthesia, your pet will be evaluated to ensure it is safe for them. 
Most pets can go home the same day of the procedure, although they may be groggy for the rest of the day.