Daycare & Boarding
At Animal Hospital of Clemmons, we offer daycare and overnight boarding services for cats and dogs.
Your Pet's Home Away From Home
We know that when you go away, you want to board your pet at place you can rely on to provide the comfort and safety of home.
Animal Hospital of Clemmons provides comprehensive boarding services for cats and dogs, including regular exercise, one-on-one attention, and on call medical care if needed.
Contact Us To Book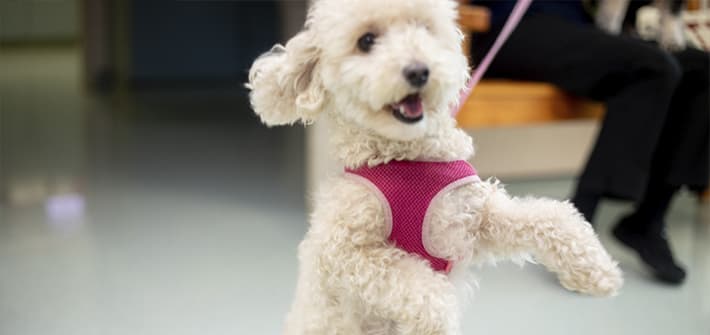 Boarding FAQs
Read answers to our most frequently asked questions about pet boarding at our animal hospital.
What accommodations and amenities do you offer?
Our animal hospital has everything your pet needs for a fun, relaxing stay. 
Our boarding facilities feature indoor, climate-controlled kennels for our canine guests and cat condos for our feline guests. 
While staying with us, your pet will enjoy daily walks, playtime, bathing, and more:
Climate-controlled kennels
Comfy beds for each guest
Clean towels, blankets, and bowls
Indoor/outdoor runs
Individual space for each pet
Separate boarding area for cats
Bathing and grooming areas
Daily walks for dogs
Abundant daily playtime with staff
Special diet accommodations
Vets on call 24/7 
Do you offer specialized care for senior pets?
Seniors often have special needs when it comes to feeding, grooming, and the administration of medication. We will make sure your senior pet gets the personalized attention they deserve as long as they're with us! go here
How much does boarding cost?
Boarding fees vary based on the size of the pet and the duration of the stay. Special medical requirements or extra services may affect cost as well.
That said, our pricing is affordable and competitive, and we welcome you to contact us for a quote.
Are boarders required to be vaccinated?
Do I need to make a reservation for daycare or boarding?
Yes, making a reservation is essential to guarantee a space in the kennel for your pet, as availability is limited. 
Please complete the form on this page, or call us to make a reservation. 
What time should I drop off and pick up my pet?
Your pet can be dropped off or picked up any time during our regular hospital hours. 
What should I pack for my pet?
Food: While we provide food for animals staying with us, but if your pet is sensitive or fussy, feel free to bring enough of their regular food to last the duration of the stay. 
Medication: If your pet takes any medication, bring it along for our staff to administer.
Toys: If your pet has a special toy or two, please bring them along.
What if my pet needs to take medication?
If your pet needs to take medication, we will be glad to administer it while they are staying with us.
Can I get updates about my pet during their stay?
Yes, feel free to call us for updates during your pet's stay with us. If there is a problem, we will contact you via the emergency contact information you provide.